February 28th, 2007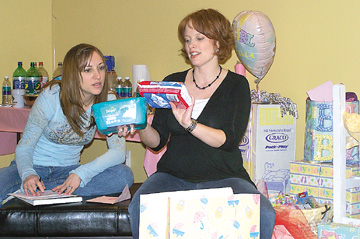 It makes sense to me now why pregnancy is split into three periods — otherwise known as trimesters. Each three months comes with a whole new set of symptoms, emotions and a whole different body.
That burst of energy I felt during my second trimester seems to be fading away. I would love to take a nap, right now in fact. And I would, except it hurts to lay down. The careful pillow configurations I had mastered for peaceful sleep in my second trimester seem to not work anymore. My back aches from the weight of my belly, and flip flopping from side to side in bed is not so easy anymore.
And I thought I was all set when it came to a maternity wardrobe. Plenty of expandable pants and long shirts. They seem so small to me now. Ok, you may remember I hit Arby's pretty hard for awhile a few months back, but really I hardly ever go there anymore. I've replaced it with an ice cream addiction.
The good news is there's no question anymore about my condition — I clearly am pregnant. My baby bump has finally evolved into a big, rounded baby belly. And this is good for several reasons:
I can not only feel her movements and kicks, I can see them. I spend a lot of time just staring at my belly watching it twitch and wave and change shape. And my husband has now been able to feel her move too. It's a great feeling.
People are nicer to pregnant ladies. People ask me how I'm feeling all the time, or when I'm due. Even strangers. I had a waitress recently tell me all about her new grandaughter when she saw me. And she brought my coffee cake out quickly and constantly refilled my water — because she said "she understood."
As far as emotions go, I'm feeling more excited than ever. My sister, with the help of my mom and sister-in-law, threw a great baby shower for me and about 25 friends and relatives. It was so fun filling her nursery with the new clothes, diapers, books and toys people bought her. We're getting very anxious to meet her.
Of course, I'm also getting more nervous as it gets closer. Not to have a baby, but to give birth to a baby. At my last visit, my nurse practicitioner actually told me when I need to get to the hospital when I'm in labor — when my water breaks or when my contractions are about five mintues apart. I was thinking "Oh my gosh, are we really talking about that stuff already? I'm not ready! I have two more months."
I guess it's a good thing pregnancy lasts 10 months. We need that long to mentally and emotionally prepare!
Filed under
FW Family Magazine, Pregnancy
|
Comments Off

on Third trimester a whole new ballgame