December 30th, 2007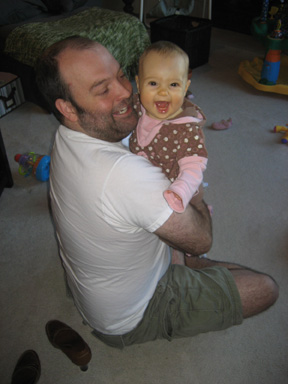 Before I had a baby, my husband and loved to go out to eat. And at any given time we would have seen many of the movies in the theater. Well, times have changed. Those things have been replaced with diaper changes, feedings, bath time and playtime. I have no idea what movies are out, and it's been a while since I even had two hours at home to watch a rental. Eating out is becoming less and less common too as Ella becomes more vocal and mobile. But, that's OK. It's somehow even better than our previous life … Here's a typical day (Ella is about 7 months old as I write this)
4:45 a.m.: Ella wakes up crying. She's easily comforted, but shoot, it's so early! She yawns a few times, so I put her back in her crib. She goes back to sleep. Wish I could …
5:20 a.m.: I normally wake up around 5:15 and give myself until 5:30 to get ready. I don't need much time. I shower and set out my clothes and Ella's clothes the night before. Anything to minimize thinking at 5 in the morning.
5:30: Wake up Ella. She stretches, yawns and smiles. Next she goes in her highchair while I quickly feed the cats and get her breakfast ready — rice cereal with warm water mixed with a little banana baby food . She's a little grumpy, so I move as fast as possible!
5:45: Nurse Ella and watch the news so I'm a little in the know before my 7:15 meeting.
6:05: Spend a few minutes playing with Ella before getting her dressed, grabbing my lunch (prepared the night before) and a cup of coffee. This morning I also place a pork roast, some potatoes I chopped the night before and some carrots in the crock pot — easy dinner tonight.
6:15: Head out the door — with construction on my route it takes about 40-45 minutes to take Ella to her sitter's and get to work.
7:00: Arrive at work. Eat an english muffin and some grapes at my desk while I get organized for the day. Normally I would have a 7:15 meeting, but with the extra graphics I have to do for the weekend paper and helping with the daily newspaper I don't have time. Start attacking to-do list, making sure to accomplish most tasks before 12:30.
11:00: Lunch at desk. Have developed bad habbit of trying to eat and work at the same time. Will need new keyboard soon.
12:30: Go nurse Ella at babysitters.
1:15 Back to work. Have less than three hours before leaving for the day. I can't stay late like I used to because I need to pick up Ella at a certain time, so I'm constantly going over my to-do list to make sure I'm on track.
4:00: Leave work to pick up Ella. It's Friday, so I'm anxious to be home for the weekend.
4:45: Arrive home. Take Ella up to see her daddy in his home office. We all visit and play. Then I take a few minutes to get into comfortable clothes and remove contacts.
5:00: Feed Ella dinner — rice cereal with warm water, a vegetable and a fruit.
5:20: Playtime.
5:45: My husband and I have our dinner. I'm so glad I put something in the crockpot this morning. It's delicious and fairly healthy.
6:00: Nurse Ella.
6:30: Bathtime. Ella's really starting to enjoy this. She puts her hands out as I pour a cup of water over them. And she giggles when I make her bath frog toy ribbit.
6:45: Put Ella's warm pajamas on her. She doesn't like getting dressed lately, so I try to be quick and have a toy to distract her. Next we read some books. She loves her Peekaboo Bedtime book right now. She understands to lift the tabs on each page and smiles when I yell peekaboo everytime.
7:00: I place her in her crib. At first she seems upset, but as soon as I hand down her blankie, she puts her thumb in her mouth, cuddles up with her blankie and looks so content. She's ready for sleep.
7:30: I'm especially tired on Friday — it's a hard day at work. So, I lay in bed watching some tv before going to slleep at 9:30. I am excited to get a good night's sleep. I was blessed with a baby that likes to sleep in until about 7:30 on the weekends! That'sleeping in around here. Like I said … times have changed.
Filed under
Baby, FW Family Magazine
|
Comments Off

on A day in the life