February 10th, 2009
Sorry I haven't gotten back in nearly a week. In my defense, upon returning home, I worked Thursday and Friday, then had company arrive Friday just an hour after I myself arrived home – then said company and I had all sorts of ambitious plans like playdates and lunches and cooking gourment food and drinking lots of wine and playing wii fit …
Then Monday I met with a moms group at a nice little coffee shop, then relaxed. Today I've managed to go grocery shopping, let Ella play outside (yay 60 degree weather) and squeeze in about 4 hours of work. The funniest part of the day? As I was getting Ella dressed after bathtime, Ella said "watch this"  and proceeded to lift her little bottom in the air and pass some gas. I know as a mom I shouldn't have laughed and I should be mature and teach her proper things, but come on, that's funny.
And just as I promised a few photos from our waterpark adventure: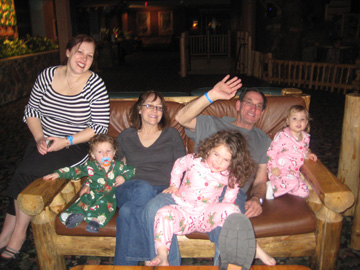 Sister Sara, nephew Finn (AKA Finny Guy) Mom, Dad, neice London and Ella have fun in lobby at Great Wolf. Sorry family for using your images for blog purposes. Just remember: only about 18 people will ever read this.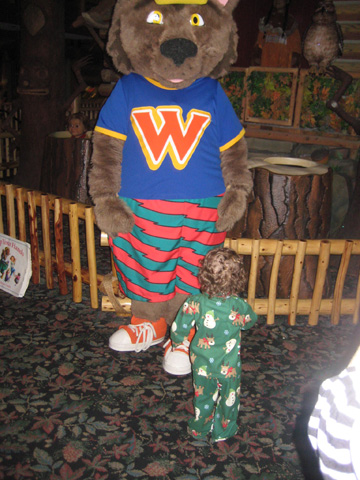 Finny Guy stands in awe of Wylie the Coyote.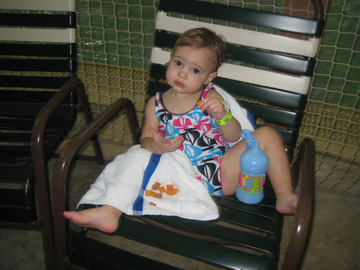 Ella lounges poolside, toddler style, with snacks and a sippie.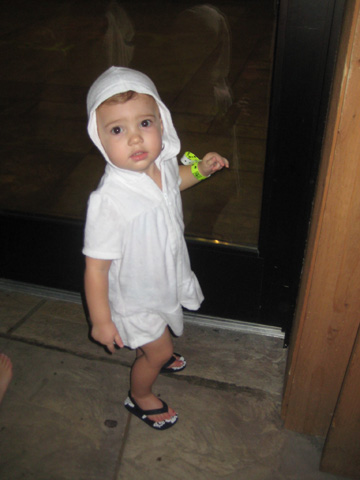 Ella looks stylish in her cover-up and flip flops.
Filed under
Uncategorized
|
Comment (1)
February 5th, 2009
We took a short family trip this week to a Great Wolf Lodge in Mason, Ohio. And by family, I mean siblings, spouses, parents and kids. 13 of us. If you haven't heard of Great Wolf Lodge, it's a chain of waterparks throughout the midwest.
We took off Monday morning at 10 a.m. on the 4 hour drive. 5 minutes later we were stopping for drinks. My family is known for an obsession for needing drinks, constantly. As we pulled into the gas station, my niece asked "Is this Great Wolf Lodge?" Oh shoot, this could be a long drive.
But I don't think any of us had a terrible time in the car. We planned it just right. 2 hours into it we stopped for lunch and to pick up my sister Emily. We ate at Lune Lake Lodge, a woodsy sortof restaurant with really good food and animatronic displays inside. I thought Ella would love it, but she could hardly eat because of the "scary owl and bear." She's still talking about them.
After we arrived they gave us our waterpark wristbands, which doubled as our room keys. To me, this was awesome. We just wore them the whole time and never once had to worry about where our room key was. I already have a history of losing things, and now that I have Ella and need to remember a whole slew of other things wherever I go, well this was a nice feature.
The waterpark was great. There were fun little slides just right for the two 2-year-olds and the big slides were fun. Although the biggest ride there – which they call a cross between a roller coaster and a waterslide, wasn't working quite right. My dad and brother got stuck on at the bottom of one of the slopes. Luckily it was right near an exit so they just got out. So my brother, SIL and I decided to try it out once they had it "fixed." But just as our intertube glided up the big hill it stopped, right at the top. We all swayed back and forth trying to get it to go. No luck. There was no exit door there and we were right at the top of the hill in the tubing, very high in the air. So, we did the only thing we could and pushed ourselves backwards down the hill. So that first trip was a little nervewracking, to say the least.
The rides were very fun though. Steve and I took turns with Ella and riding the big slides ourselves. It's fun to be a kid yourself again and experience the pure, simple fun of going down big waterslides. I even got the classic kid injury – a skinned knee.
Perhaps more than the waterpark though, Ella loved the arcade. I think she liked putting the coins (or "toins" as she calls them) in the machine better than the games themselves. And she cracked us up on her first trip down the elevator to play the games. My sister Emily and I really talked up the games, but as soon as the glass elevator arrived at the floor of the arcade room, Ella noticed something altogether different. She yelled "carpet!" Guess she thought their carpet with all the bright shapes was pretty neat.
She was a real goofball a lot of the trip. She was really excited to see that everyone was around still the next morning at breakfast – she greeted everyone individually – Hi Rachel! Hi Marc! Hi Sara! Hi Grant! … Pretty funny.
So it was a lot of fun this year. I don't think I would have done anything different. A very good February getaway! Stay tuned for photos …
Filed under
Uncategorized
|
Comments Off

on Family vacation-Great Wolf Trip #2