July 15th, 2010
I've talked a while to friends about wanting to try out a program called CSA – community supported agriculture – and I finally have done it. Basically it's like a co-op where you pay a price upfront and get a shipment of food once a week. In this case, it's locally-grown, organic produce.
And so far, it's been very fun.
First of all we got the small allotment which is enough for two adults and it's $24 per week. I think this is very good – look at organic prices at the store – it's easy to spend that much.
And so far we've already tried some new dishes and have cooked some veggies I never buy – like beets.
A few dishes we've had lately:
Roasted veggies – sliced up zucchini, squash and onions drizzled with olive oil, sprinkled with salt and pepper and baked in the oven. Yum.
Chicken stir-fry with julienned zucchini and squash. (Not only do we have zucchini and squash through the CSA but Steve has grown some good ones in his garden)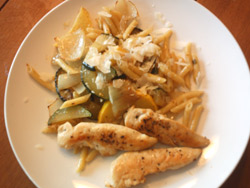 Cucumber, tomato salad – chopped up with green onions, olive oil, salt and pepper.
Roasted beets. (wrapped in tin foil sprinkled with salt and pepper and baked – do you see a trend here?)
Sauteed zucchini and squash over pasta with chicken strips.
And I can't wait to try some zucchini fritters that are in the Food Network magazine this month!
Now, does anyone know what you do with a leek?
Filed under
Uncategorized
|
Comments (4)
July 8th, 2010
Well, I was reminded that camping is a bit harder with a baby – boy there is a LOT to pack. And naps are not easy to come by. Even in our little air-conditioned pop-up oasis. But mostly the kids were happy and had a lot of fun.
As usual it took me a little time to adjust to camping life – oh yeah, I have to walk a block to the bathroom and uh, how am I going to wash these dishes? Things like that trip me up at first but by the end I always have a few ideas about how it could be better. Like for one – I will not put our little booth up again until necessary because leaving it down creates a great little play space and room for bags.
Anyway, we had loads of relatives to visit with and tons of kids for Ella to play with. One of Ella's sweet little cousins, well 12-years-old, not THAT little, took Ella to the bathroom so many times, we started to call her our nanny. Thanks Melia!
Otherwise we swam, and ate very well (thanks Shirley and Bryan!) and visited downtown and baked in the sun and enjoyed the fireworks on the beach and celebrated nephew Rylan's birthday. Good holiday.
Photos to come.
Filed under
Uncategorized
|
Comments Off

on First Fourth with two kids
July 1st, 2010
I think Ella has reached the age where she has a lot of questions. And I mean a LOT. Here's a sampling of what she asked me on our drive this morning:
Are all husbands dads?
Are girls husbands?
Eva's thumbs are smaller than mine right?
Is that the road over there?
Are we going to see grandma today?
What is a question? (After me mentioning that she asks good questions!)
Filed under
Uncategorized
|
Comments (3)