October 19th, 2012
Sleep has been very inconsistent lately. Between sick and coughing children and husband's snoring, I can't win lately. But with a night away this weekend, I'm thrilled with the prospect of a night without being woken up. Anyway, a lot has been going on, and I'm too tired to work very hard at writing a great post. Bullet points it is:
As of yesterday I am Ella's girl scout troop leader! I was impressed at how thoroughly they investigated me: criminal background check, 20-minute-phone interview, 5 references … so, I have been approved and I am excited. I'm excited to work with a group of girls Ella's age and see them learn and grow. It sounds like I will have two great co-leaders too which really helps take the pressure off. And wow, everyone involved with the organization has been so nice and they are extremely organized! I think this may be a great fit for us. Hope I can do them proud.
Ella's doing a 30-day fitness challenge at school. It's a commitment to do exercise for 30 minutes every day for 30 days. After completion she gets a ticket to a Mad Ants game. She is gung ho about it. And I am also doing it with her. Although I have failed one day already. I learned a lesson though. Unless it's my night zumba classes, don't plan on exercising in the evening. Things come up and plans can fall through. Working out at 5:30 a.m. is the way to go for me on days I don't do zumba …
Ella is also doing book-it – a reading program I did when I was in school! Her first challenge was to read (herself, not me) 10 books. She got the job done early and received her reward: a coupon for a personal pan pizza at Pizza Hut. I thought maybe Ella's enthusiasm for these programs came from the satisfaction of completing a task and filling out these forms, but I asked her and she said it's the rewards! Ha ha. Well, I'm just glad she's excited.
Got a new couch and chair and I love love love it. They look awesome too with my new dining light. Now we are going to Ikea this weekend to buy a few other things to finish our living room off. Can't wait!
Ella has an allergist appointment in a few weeks. With all the sicknesses and a case of hives mixed in, it's time we see if she has any. Kinda scared, I have to admit. Wish us luck.
That's all. Loving the beautiful fall weather! Here are a few photos from lately: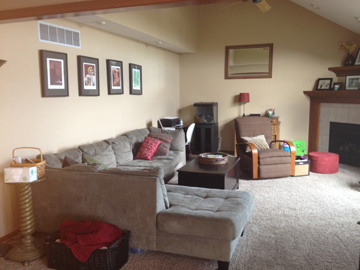 This was our old couch. While I still liked the style, the stains and mashed down cushions I did not.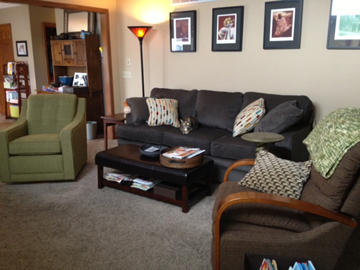 New couch, green chair and ottoman. Love, love, love.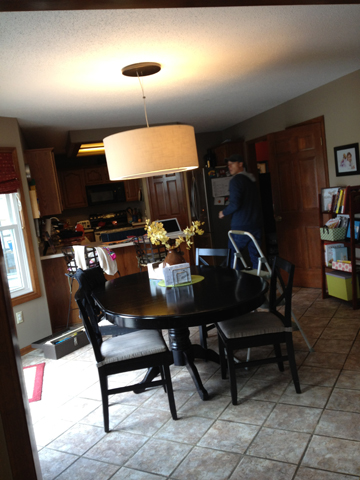 New dining light too. I'm a lucky girl.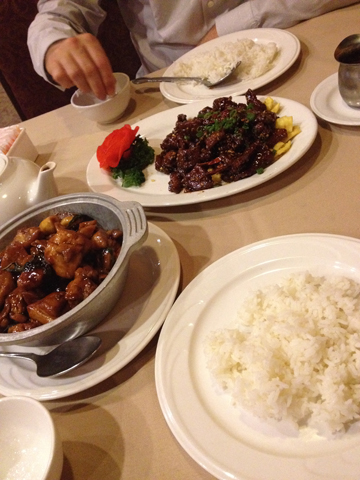 We slipped in a date at Wu's for our 8th anniversary.
Ella got her very own library card. That day may be in the top ten favorite days of her whole life.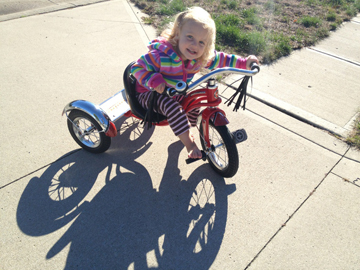 Boy those girls have Daddy wrapped around their fingers. They fell in love with this bike at Sam's Club, so he bought it. It is pretty rad.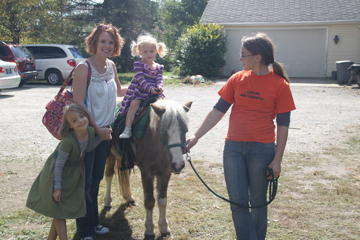 There have been a few days we haven't been sick … this was a very nice day we all had at a pumpkin farm. Steve even missed football for it. He must really love us.
Filed under
Ella stories, Eva
|
Comments (2)