July 7th, 2008
1. Schedules are very important for toddlers. Late nights + fewer naps = crazy baby.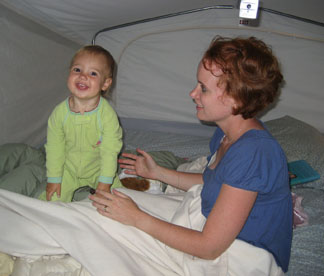 2. Aunt Becky carries a lot of stuff in her purse. Including a flashlight.
3. Little Maximilian loves an audience and has a hundred faces to amuse them.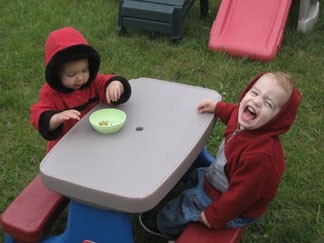 4. Ella doesn't like cold pools. But a heated pool or a lake with waves and she's completely satisfied.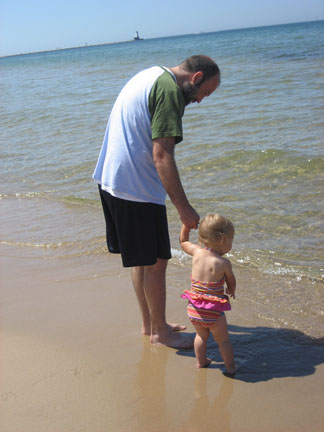 5. Parades were invented for children. Lots of waving, lots to look at and candy being thrown right to you. It's like heaven on Earth for kids.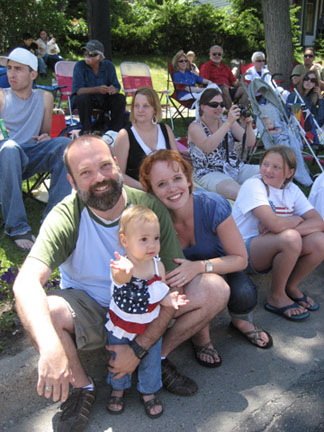 6. There's nothing better than going to another person's house who has different toys and a child-proofed home. Thanks Tami!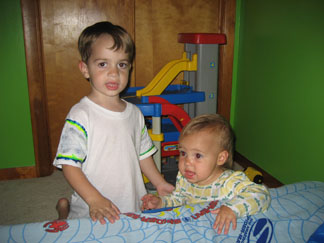 7. We should take our pop-up camper for a test run before using it for an 8-day stretch. Working water would have been really helpful this week.
8. Always prepare for rain the week of the fourth. It will rain at least once. Have a book and dvd player as backup.
9. Shirley throws a mean baby shower. Loved the chicken salad sandwiches, sausage/bacon rolls and cream cheese/beef bites.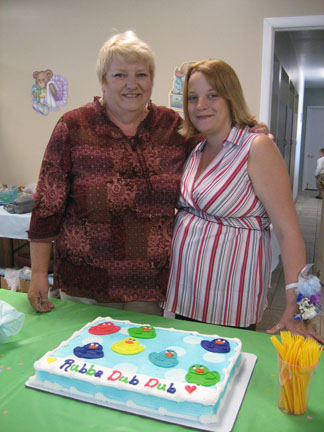 10. Bryan is a master outdoor chef. I didn't know you could even cook a casserole on a grill.
11. Having older cousins is extremely helpful.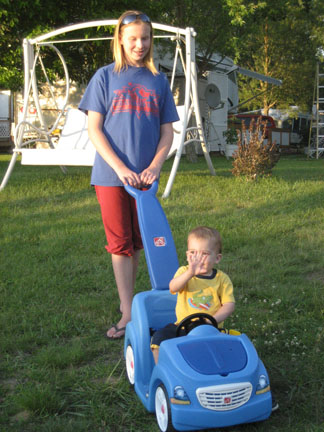 12. Ella really likes to grab and poke at people's faces.
13. We're encouraging more toe grabbing.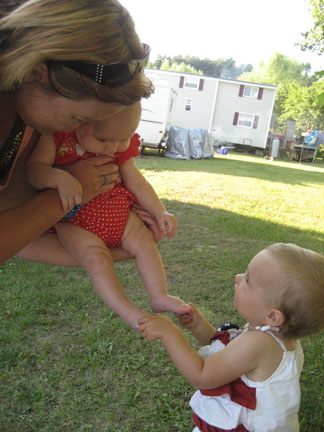 14. It's really hard to get a good picture of six kids.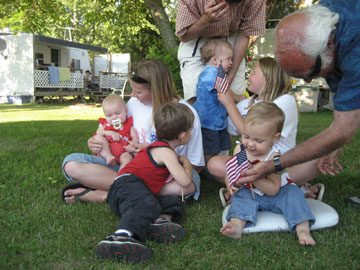 15. But it can be done.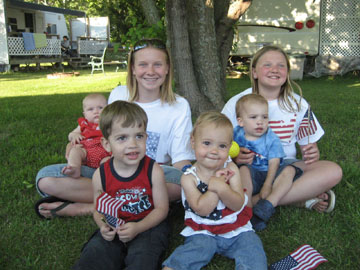 You may now realize I have a really good excuse for not blogging for over a week – we went camping. No Internet, no TV, barely working phones. Now I'm trying to conquer heaps of dirty laundry and round up some food for us to eat this week … so hopefully this post will keep you all happy for now. More later!
Filed under
Toddler
|
Comment (1)