January 13th, 2011
I was really hoping Ella's preschool would not be canceled yesterday. I had work to do. I needed to go to the store. And Ella had an ice cream party planned at school. Plus we've already been spending a lot of time at home … but the four or five inches of snow or whatever we had won out.
But we ended up having such a great day. I never got the girls out of their pajamas. Or mine either, until my night zumba class.
I downloaded songs to Ella's new leapfrog teddybear and customized it for her. She answered a few questions – favorite animal, color, food and now it sings a song about her and says her name when you turn it on. And everytime this song about a purple giraffe who likes to eat sausages (yep, those are her favorites) comes on she giggles and giggles.
Eva took a 3 1/2 hour nap. She was one tired girl. She was up a bit the night before and has had some wrestless sleep. Teething, gas, feeling ill? I don't know anymore! I can't wait for her to talk.
We watched a Care Bears movie (I got my work done), we played Barbies and we played an especially fun game of "birthday party" in which I put old toys in gift bags and pretended to be coming to a birthday party for Ella. She loved her presents.
And of course we had our own ice cream party. Both girls sure love their ice cream.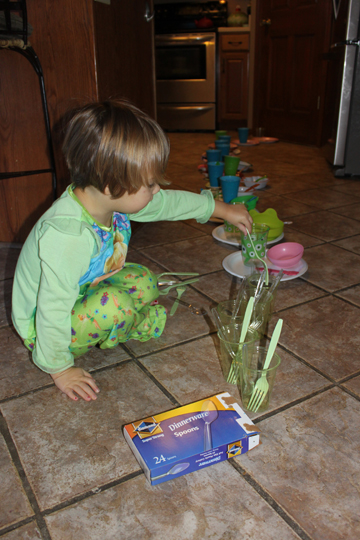 Ella sets up for a pretend party.
Filed under
Uncategorized
|
Comments Off

on A good snow day