February 15th, 2009
I've just realized there is a very important subject in my life that deserves more attention on my blog. Our new carpet.
Yes, it's an exciting life I live.
Anyway, as we usually do, when embarking on a new purchase, we researched the subject to death. We went to countless stores. Spent months considering the best kind, brand, color, price for our house. We knew it had to be very stain resistant, so that led us to frize. We also knew that a neutral would look best, but again, because we were looking for something to hide stains we wanted something quite a bit darker.
Just to remind you, this is what it did look like: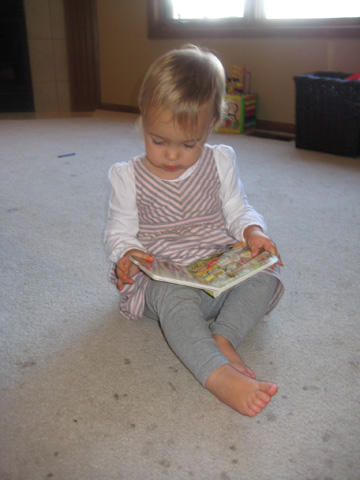 Pretty bad. And that's only a small portion of it. I'm not sure how it got that way. The previous homeowners who had three children surely contributed, but It got much, much worse in the last year. Someone once suggested that when little drips of water or milk from Ella's sippy cups get on the carpet, dirt clings to those spots. The moral of this story: Don't ever get really light carpet, people!
But here's what it looks like now: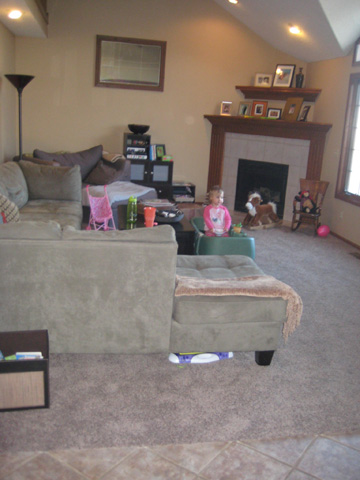 Ah, plush and soft. I love it. And it doesn't look like it needs vacuuming every other hour of the day. And if you're wandering, yes, that's Ella sitting in a wagon in the living room. More on that in a minute.
Another thing I love about the carpet, instead of the cheap trim we had covering up where the carpet and tile meet, the installers just turned the carpet at the end and gave it a clean line like this: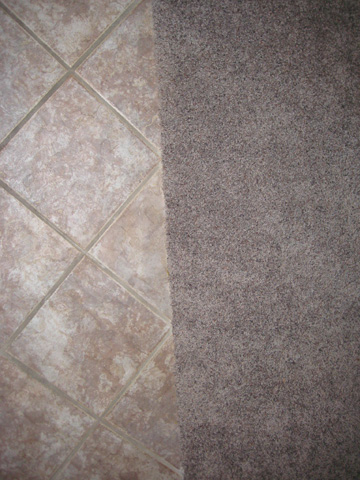 My mom suggested this. That is why she is my top design adviser.
So about that wagon. At some point last week, it was around 50 degrees for a couple days. I was so filled with joy. Ella and I took a walk outside. When we left, we only had to wear our light jackets. No hats, mittens or scarves. Ella wore her cute new spring jacket from Grandma.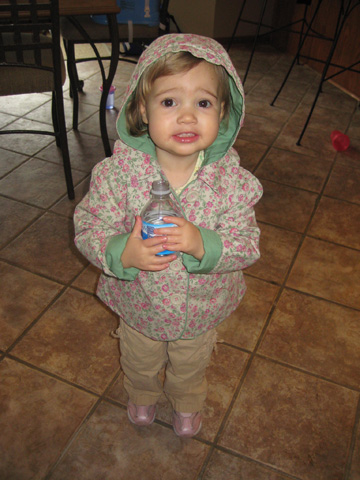 So that night we assembled her wagon, a Christmas gift from the grandparents. But because we live in Indiana, the 50 degree weather quickly ended, leaving us instead with alternating downpours of snow and rain. Oh, Indiana, you're so cruel.
But Ella sure loves her wagon. I pull her around in it. She eats snacks and drinks water in it.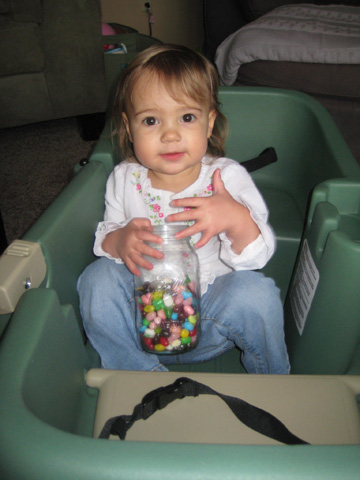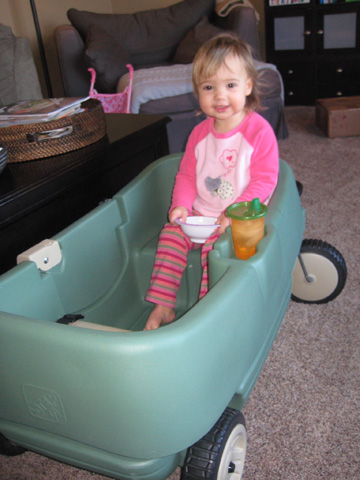 The best part is that if she happens to spill her snack, no big deal. It's in the wagon! So just maybe this time, our carpet will last a little bit longer …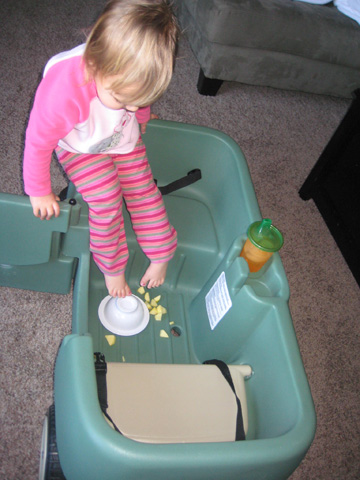 Filed under
Uncategorized
|
Comments (2)