March 24th, 2009
I think Ella had a really great birthday.
It started on her actual birthday with a celebration with her grandparents on my husbands' side. She was really excited to see them and the Curious George cake and balloon they brought her made her night. She also received plenty of Curious George books, cute little ladybug and dragonfly animals, a hat and more from them. She loved it all.
Next she had a party with her friends. There were 10 kids in all and the look on her face when she saw them all told me that I did the right thing by making it a big party! She was thrilled when they all came through the door. The party was at It's Playtime, a local indoor play place, and I couldn't have been happier with it all. Nail painting, kid tattoos, tons of toys and things to do and a great room all decked out for the kids to have pizza and cupcakes. She got great presents there too, Finding Nemo, which we've already watched THREE times, Madagascar, a Playdough ice cream set, some great books, a great Melissa and Doug bead set, a tent we've already spent a lot of time with, and a ton of great clothes from Grandma. Sorry if I didn't name yours. We really did love it all.
Anyway it's been a week full of company and doing lots of stuff and having fun and I think I'm ready to curl up with a book. So here a few great moments from the week …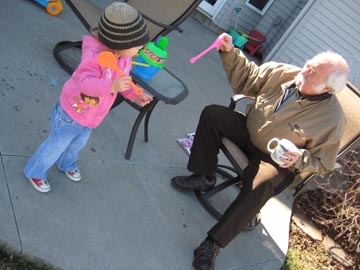 Some QT with grandpa Doucette.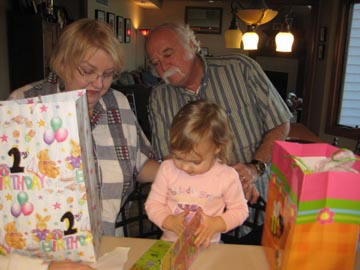 She knows what presents are this year.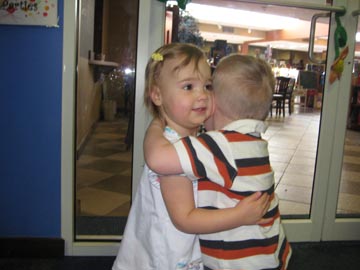 Ella welcomes a friend to the party.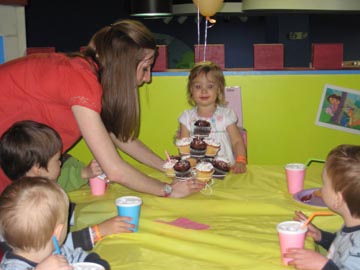 What? All these cupcakes are for me?!!
Filed under
Uncategorized
|
Comments (3)