October 27th, 2009
Last weekend we took out "girls weekend shopping" trip that my sisters and I planned for my mom's 60th birthday. We had a blast.
My SIL Rachel borrowed her parents big van so that all five of us women could ride together – even with luggage and lots of shopping bags. So that was extremely appreciated. Especially since it doesn't seem easy to drive. It's huge. It definitely was not easy to park.
When I stepped into the van, my sister Sara had left a Chex bar snack on my seat for me. She also came with maps printed out of each location we would be going to and had extra coupons for me to borrow.
When we picked up my other sister Emily, she had packed a cooler of water bottles for our day of shopping and for the morning at the hotel. She also had coupons for most stores at the outlets – and had printed and stapled together a copy for each of us.
Are you remembering my obsession with labeling things and starting to understand that's it's a family trait – or as my husband would call it, disorder?
I just found this all really helpful and refreshing. I mean, if you live with a 2-year-old, or a man (no offense honey) you know what I mean.
Our first order of business after arriving in Edinburgh was to eat lunch and do our Christmas drawing. Our family has grown a lot and while we all want to get gifts for the kids and my parents, it's just gotten really hard to buy for EVERYONE. Hence the drawing. So, we quickly drew names and shared lists of what everyone and their families would like for Christmas. The guys are always so difficult. Most of them just want giftcards somewhere. My BIL put barbells on his list. Who wants to go buy barbells?
Also, because I happen to be invited to a Pampered Chef party this week I had requested that the drawing be rigged – and that I buy my sister's gifts, because I knew she wanted kitchen stuff. So we're really making Christmas easier on ourselves. And I like it that way.
So anyway, we aren't quite all that nerdy all the time. We laughed a ton. And we shopped our butts off. It was great doing our Christmas shopping with each other! My mom helped me pick out stuff for my dad. I helped pick out stuff for Steve and so on …
By the end of the day, we could barely walk. Luckily our hotel, which was a really nice Hilton, had a beautiful restaurant, where we went and ordered practically one of everything at.
We were so tired at this point in the night that my SIL didn't even flinch when Sara called her skanky. Sara made a comment about some spiky heeled shoes she bought herself – saying they were kinda skanky, like something Rachel would wear. Later Sara would label Rachel's drink with the word "skanky." Good thing Rachel's got a good sense of humor.
The next day we were still pretty beat, so we agreed to skip the Nashville shops for a quick trip to the outlets and to Target to finish buying some Christmas toys.
When we loaded up after Target, I overheard Sara mention to Rachel she had forgotten who she got in the drawing. Which was funny to me, since we had been shopping for a day and half and apparently she hadn't thought about that person. After thinking for a minute, I suggeste maybe it was Emily. Rachel died laughing because I had rigged the drawing so I would get Emily, and I had forgotten. But the joke was on Rachel when she figured out that she was the one Sara got in the drawing.
By the time we left our last restaurant of the trip I mentioned to Rachel I wanted to stop for an icy drink on the road. Along with our bad memories, my family also has a common propensity for constant drinks. I guess Rachel was sick of her in-laws by this point, because she replied "Just get in the car!" I was dying laughing.
So it was a great trip and a nice little break for all of us women. Good job hubbies for taking over for us.
And here's Ella showing off some of her new corduroys from the Gap …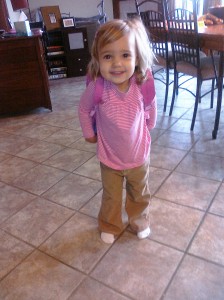 Filed under
Uncategorized
|
Comments (2)