June 25th, 2009
There are a couple Web sites that have caught my attention lately. So, I thought I'd do these bloggers a favor and pass on their sites to my 12 readers. (You're all still there, right?)
My sister introduced me to this one about unnecessary quote marks. It's hilarious. Apparently there is a large part of the population that totally do not understand when to use quote marks. And the blogger's sarcastic comments just bring it all home.
Ok, then there is this mom blogger, who apparently is really well-known for her blogging – she's been on all sorts of TV shows and interviews about her blog. But anyway, I like her because she's funny and she has amazing taste and just had a really cute little baby named Marlo. So, if you want to check her out go here.
Then there is this other blogger girl who I discovered through an old favorite of mine, mighty maggie. This girl is really sweet and she is 39 weeks pregnant, and her last post was titled "I will be pregnant forever." And I remember feeling exactly that way with Ella, so I totally sympathize with her right now. And now I find myself checking in on her to see if she's had her baby – check her out here.
So yeah, you may notice I've got babies on my mind a little bit lately. So, it's probably time I fill you all in on some other things in my life that I haven't been blogging about. A few months back I got this …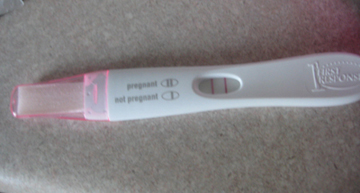 and so sometime around Christmas (due date 12/28) Ella is going to be a big sister. We're very excited. And there will be plenty more to come on that subject, including how at 13 weeks I already don't fit into my pants and how Ella wants to name this new baby Cowboy Toots.
Filed under
Uncategorized
|
Comments (7)