June 24th, 2009
It has seemed pretty busy since we returned from our trip. With work on Thursday, Friday, a trip to the zoo Saturday, work Saturday night, shopping with my mom Sunday … last week went quickly! Then Monday Ella and I took a trip to see my grandmother, then prepared for a visit to my sister's place. We drove the two hours to Indy to stay with my sister for a quick visit. She has summers off and I'm working part time so why not take advantage of it?!
Anyway, traveling 2 hours with Ella by myself still makes me a little nervous. I mean, I'm not worried about something really horrible happening – just wandering if it will be a long cranky car ride or if she will ever get to sleep at night … But thanks to the good old travel DVD player, Ella was so happy to watch Madagascar on the trip down. And yes, she did have trouble going to sleep. She was up until 10:30 or so, but I can't blame her – being in a new place and all. And it wasn't like she was being bad, ripping the place apart or something.
So we had a really nice time! Em had a great pizza waiting for us when we arrived. And she fixed some excellent sandwiches and soup for us the next day. It's fun being the guest. As much as we have company stay with us, we really don't ever stay at anyone else's house, and hey – it's nice being the guest!
We also checked out the pool at Em's apartment and they had a kiddie pool, which was AWESOME.  Ella could run and splash in the shallow water while I sat poolside and relaxed while I watched her. Now that's good stuff.
So, I've been searching for a kiddie pool for the yard ever since. We have a tiny, $3 baby pool that we have really enjoyed, but I'm thinking something bigger. Something I can possibly fit in. If I'm going to sit outside and watch Ella in 90 degree weather I'm going to need to get cooled down.
I've already looked at Wal-mart, Meijer and Sam's Club and wow, they make a lot of kiddie pools. With slides and sprinklers and animals and palm trees … And there was a huge one at Sam's Club. And it was really tempting to get. But it's so big, I don't think you would dump it out after each use. Therefore, there would be a pool of water sitting in our backyard. And this scares me. Although it would be plenty shallow enough for Ella to stand in … the safety hazards of it just still scare the life out of me. So, anyway, I just found this good, medium-sized pool for like $15 at Target. No shipping. And it will arrive in a day. Sold!
Hopefully Ella likes it as much as the ones with all the frills …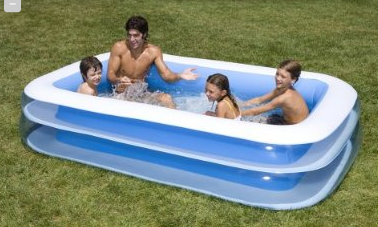 Filed under
Uncategorized
|
Comments (2)