September 30th, 2008
It's Tuesday again, my Monday. But it hasn't been bad at all. I didn't even feel the normal grogginess I do on Tuesdays. Ella, on the other hand, was a bit grumpy today.
She cried the minute I put her in her highchair so I quickly got her some cereal. Which she threw on the floor. Ok, let's try a breakfast bar, I thought. Nope, she threw it with anger this time as if I had seriously offended her. So I picked her up and tried again and she happily ate it in my lap. Guess she just wanted a little snuggle time this morning. She was really tired I think.
She seems to be feeling good though. She didn't wake up at all last night. Gotta love the antibiotics.
Sara says her little boy (seven weeks older than Ella) got out of his crib last weekend! So, I'm worried about that. She's upstairs, close to some stairs, so we have to be sure the gate is closed at all times. Plus I think I'll just panic if I ever go to her crib and she's not there.
Anyway, we had a lot of fun with the neighbor boys this weekend, who turned 2 and had a great farm themed birthday party, complete with wagon rides, bales of staw and animal masks. Here's a photo of Ella and Carson as they contemplate their next round of goldfish snacks. Hope you don't mind Holly!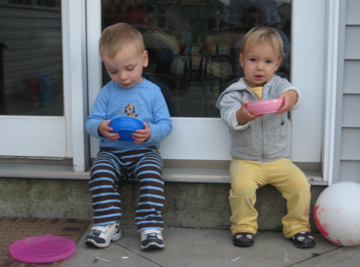 Filed under
Uncategorized
|
Comments (4)