May 28th, 2009
The Memorial Day party may have been the best yet. The weather was beautiful and lots of people showed up. And two families even came the night before, which I was thrilled about but a little nervous about entertaining and getting the house ready for a bunch of people all at once.
So my mom came on Saturday to help with the cleaning. And she brought her really nice children's picnic table and a bunch of chairs. And for the party she brought brownies, all different melons, meatball and veggie skewers and cheesie potatoe casserole. Do I have a good mom or what?
And I should have given my friends more credit because they were awesome. First, when I awoke Sunday morning my girlfriends told me that the men had offered to watch the kids while we went for pedicures during the day. They didn't have to talk me into that. Then before the party my girlfriend Cheyenne got busy in the kitchen doing everything while Erika vacuumed and picked up. Nice. We had a whole hour to relax before company even came.
The whole day was nice too. A flurry of activity. Rachel brought over a new crazy shark slip-n-slide and her big bouncy house, along with her grape salad. Sara brought over tons of popsiscle treats and her ice cream Sundae treat AND a vegetable tray. See what I mean by awesome? People brought so much to share.
And we've realized we just really don't even need to buy too many sodas or beers. Everyone brings a sidedish and beverages. Anyway, enough about that, I'm just blown away by how much everyone pitched in.
The kids loved the slip-n-slide. I didn't know how the 2-year-olds would handle it, but Steve pulled Ella along and she loved it. And little Finn held the hose happily the whole time. The kids were just busy the whole time between the playset, the sandbox and the water toys.
We also sat in the screened in porch for awhile, which was perfect. I think it's like 10 degrees cooler in there so on an 80 degree day it makes the weather perfect. Then our friend Brent got out his guitar and Rochelle sang along. It was great.
Then the highlight (or lowpoint – depends how you look at it) happened. Ella was sitting on my sister's lap for quite a while, in her swim diaper and swimsuit and all of the sudden Emily looked at me, while holding Ella up and said "Houston, we have a problem. Ella just peed all over me." I think we all bust out laughing and I grabbed Ella to go change her and realized she was still going. So, I had to run through the crowd of people and through the house all while Ella was still peeing. On me. It was hilarious though.
I was so happy to see some other friends with their new baby. Their baby is six months old now and I just got to meet her for the first time. And I have known this couple now for I think about 8 years! And we all worked together in Marion and in California, so I'll always have a special bond with them. I'm so glad you came Tom and Kara!
Anyway, it was little crazy to see how many kids were there. Just five years ago, most of them didn't exist and our parties were quite a bit different. But it was really cool and I'm glad we all were able to watch them play together.
The party ended at 11:30 for me when I was just too tired to talk anymore. It ended with a campfire and smores and some latenight funny talks. A perfect party.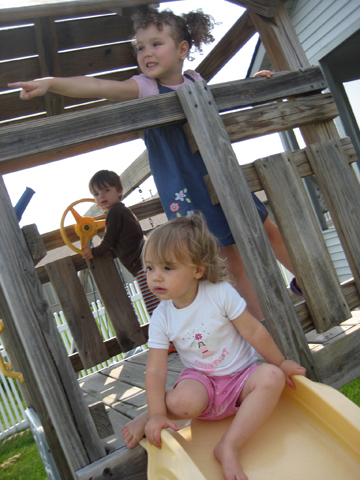 The kids navigate their "ship" away from the pirates!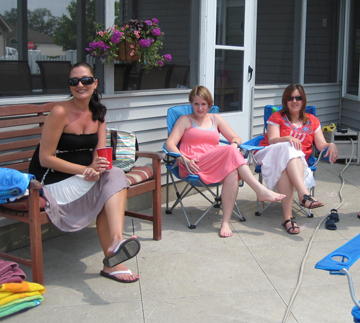 Some members of my helpful crew.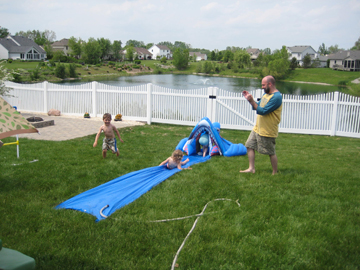 Grant and Ellla practice before the crowd arrives.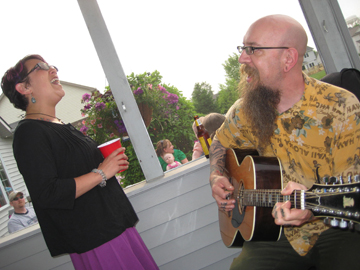 A relaxing time, just before the pee incident.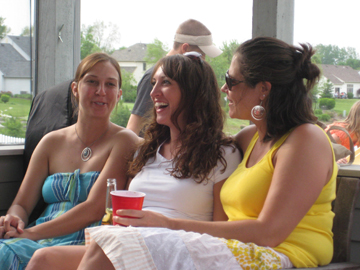 Some good girl time.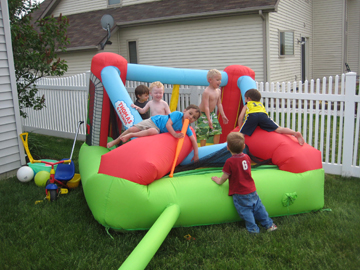 Boys gone wile.
Filed under
Uncategorized
|
Comment (1)