September 25th, 2009
My grandma passed away Tuesday night. She had not been doing well these past few weeks. She was 89. She had raised five children, and had 19 grandchildren, 33 great grandchildren and one great-great granddaughter. Needless to say, she was all about family. She was married 67 years to my grandpa, who passed away two years ago. And she was a real character, just like he was.
Anyway, I debated speaking about her on my blog – but then decided that a good portion of the readers are my family and they will enjoy this. And family – please share any memories you have in the comments area.
So, here are a few things that I think of when I think about my grandma:
Memories of Grandma
Once she sat me down and showed me pictures of my aunt's wedding day. She told me that she was so excited about the dress she ordered (from Sears catalog maybe?) but then it got delivered and she said she wished that dress would have never come.
Our house burnt down when I was 10 – it was rebuilt, but we were suddenly homeless. She took us in and I remember her staying up late with me and making me hot chocolate. My parents though also remember that four days later she put our suitcases out in the yard – guess having an extra 6 people around was a little too much for her!
We drove by a new neighbor's house one day and she smiled really big and waved and the man just stared at us. After we passed by she muttered "Stuck-up asshole."
When I was very young I remember jiggling the extra hanging skin on her arm and saying "What is that Grandma?" Oops!
She played cards often and I can remember playing with her at her little kitchen table on many occasions.
She loved taking care of stray cats. It seems like she always was feeding a group of them from her backdoor.
I loved looking through her jewelry box. Big fancy necklaces and earrings. I'm glad she let us, even though we were probably really young.
I remember several of us jumping on her bed upstairs singing the "No more monkeys jumping on the bed song!"
She always was really excited and friendly and had a high-pitched squeel when she would see us. And she always thought us girls were so skinny! We always got a kick out of it.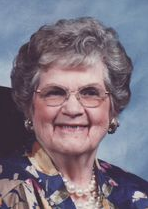 We love you grandma and we'll miss you!
Filed under
Uncategorized
|
Comments (5)