March 27th, 2009
Wow, what a busy week. For six of seven days last week we had company and in the middle somewhere was the birthday extravaganza. It was all very, very good though. Thanks for coming everyone!
And I love that my new schedule allowed me to have time at home after to recuperate and time before to get ready. Yay, part-time job!
Anyway, now I can return to my obsession with creating a little girl room. And it has been an obsession. I just can't help it. How often do you get to decorate a little girl's room?
Some of the decisions have been agonizing though. You'd think I was designing a room for the president, but nope, a little girl who probably doesn't care about complementing colors. But I hope when it's done it will be fabulous and fun and she'll love it.
Anyway, I've finally decided on a paint color, which was the hardest decision.So what's it's going to be?
A milk chocolate brown. You may think brown doesn't really scream little girl room – but believe me, pink was on the list and may have made the cut but then when I saw my furniture repainted …
I don't have a photo of the furniture, but we had an antique dresser and nightstand painted a mint green. Then we also bought a white headboard for her new twin bed. We bought white because we thought it would look good with the green and we have way too many wood-colored things in our home.
Anyway, I finally found this photo online that made me think brown would definitely be a good backdrop for the white and green.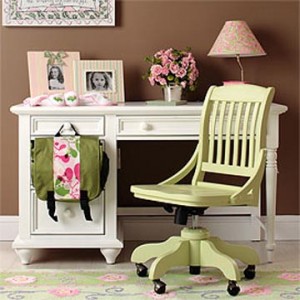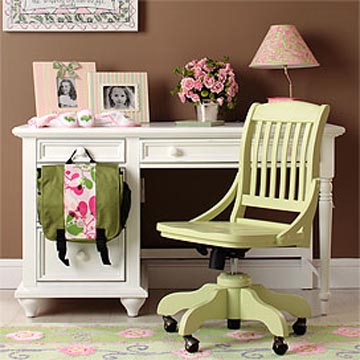 Also her bedspread has aquas and pinks and greens and I think a brightly colored wall would be too much for it all. Speaking of the bedspread, this is it below (by the way, I think it's way cuter in person. Also, I found some great pink and white striped sheets to go with it).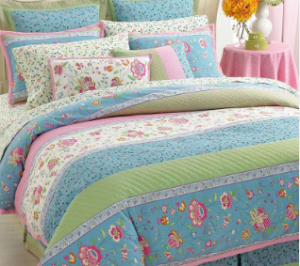 So I finally made those huge decisions and then I got invited to an Uppercase Living party. If you haven't heard of them, they sell vinyl wall decals but they look just like paint. I had already been admiring the ones I saw in Pottery Barn and Land of Nod catalog so I jumped at the chance to check out the Uppercase Living ones and they are really, really cute. Hence another indecisive week of choosing between flowers, trees, butterflies and in what color? And what size???
For the longest time I was going to go with this: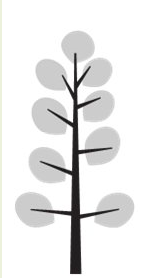 But then I realized as cool and modern as it was, Ella's antique dressers and flowery bedspread don't exactly have a cool and modern look.
So, now I'm thinking this: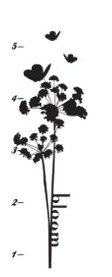 And not only is it a tree with butterflies, but it is a growth chart, which I was really wanting to get for her room.
I'm thinking of getting it in cream color. Since it's on a brown wall some of the colors look a little muddy on it. But I don't know, does this clash the white in the headboard and bedspread? This is approximately what it would look like …

And I may order just a few butterflies to sprinkle on the wall above her bed. A little inspired by the picture below, but I'm just going to do a few.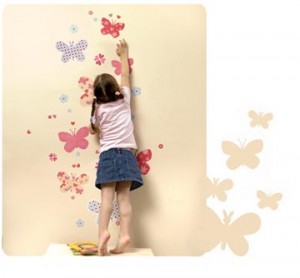 So anyway, the painting party is next weekend. And we need to buy a mattress still, and I'd love to have a window shade under the curtains.
There, now you know what I've been thinking about lately. Butterfly decals.
Filed under Uncategorized | Comments (2)