July 19th, 2012
Honestly it was a trying week. 4 nights with the husband gone, countless potty training accidents (I thought she was ready!), a toddler who doesn't want to nap or go to bed at night and a 5-year-old with a tummy ache (that only occurs at nightime when it's time to go to bed. … Oy. I was done by last night. Thank the lord my husband's home.
Anyway, I'm getting a needed break today while they spend time with their dad and as I look through some snapshots from the week, I remember what good days we had. In between some frustrating moments we had some great moments too.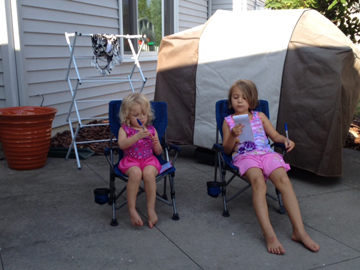 Camping reminded me that it's nice to have my morning coffee outside in the morning. And it's practically the only tolerable time to be outside this way too hot summer. On this particular morning I made a list of some things we could do and some things I need to do. My girls love to make a good list, just like their momma. And this is very standard attire lately by the way – Eva is wearing a dance leotard and Ella is wearing pajamas. Very fitting for their personalities.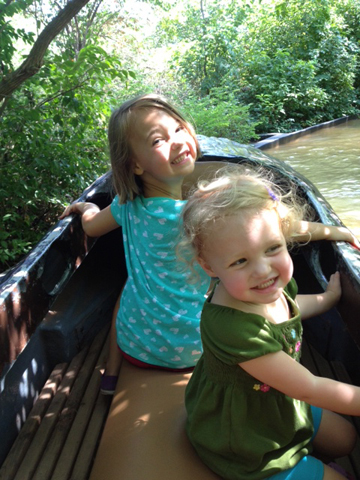 We're lucky to have a great zoo in Fort Wayne. And it's big. We did several exhibits we often skip this day – like the bat cave,  the aquariums and the sea lion feeding. But the log ride and train ride, we don't skip those.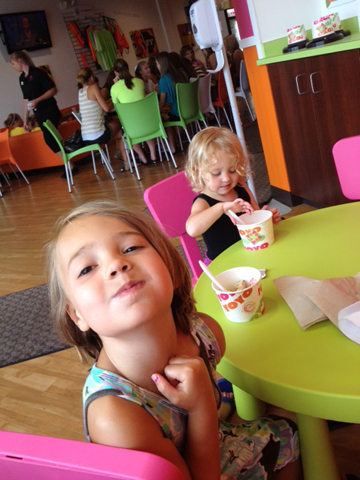 Tuesday I did a million loads of laundry. OK, maybe 8. So, I gladly took the girls to Yo Yos when Ella suggested it. I don't understand why kids like gummy bears in their ice cream (don't they get cold and hard?) but wow, they think it's wonderful.
So, yeah, I'm hoping these memories will override all the small pairs of underwear I had to rinse out and the overflowing toilet I cleaned up this week. Maybe my memory is bad for a very good reason …
Filed under
Uncategorized
|
Comment (1)