September 10th, 2009
My cat of 14 years passed away Monday. He was old for a cat, and had a lot of issues these past four years, and seemed really sick as of lately. So, I realize that it is a natural thing and probably for the best, but still sad.
He was so cute when I got him. This tiny ball of fur. He was always very round and had big paws. By the time he was an adult he was over 20 pounds. A very big guy.
And very cuddly. I remember in college between classes, I used to come home and snuggle with him in my bed. He always loved to be petted and cuddled.
He had really long hair that was really pretty, but it matted up all the time, so he usually had his hair shaved once or twice a year in a really cute lion cut. He felt like a velvet teddy bear when he was finished. I loved petting him then. But Maude, our other cat, never seemed to recognize him right after. She would hiss at him and hide from him for days.
Anyway, it was Kennith's time. I felt like his life wasn't as great as it once was. We've had to relegate him to living outdoors and in the garage these past few years, because we just couldn't stop him from going in the house.
But I'll miss Kenny. He was here a long time and I've learned a lot about responsibility and having pets from him. So, here's to you Kenny. I'm glad we got to share our home with you for so long. R.I. P.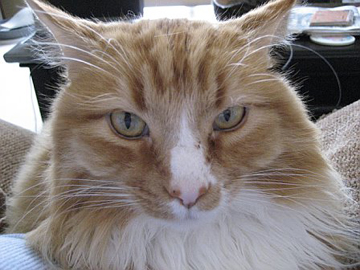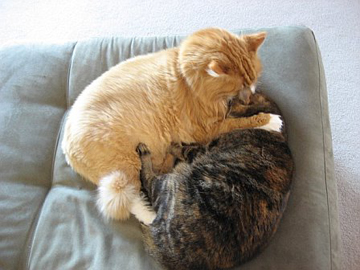 Filed under
Uncategorized
|
Comments (3)