November 13th, 2010
Sometimes I find crafts in magazines and blogs and actually do them with Ella. I'm glad she loves to do crafty things, like me.
So, this week we did a "thankful tree." Basically you put a branch in a pot, fill with whatever material you want to hold the branch, (I think coffee beans would smell good, but we used some landscaping pebbles we had), cut out leaves in which you write one thing you are thankful for on each, hole punch them, hang them on branches and Wha la. The thankful tree.
Ella didn't know what the word thankful meant when I first told her about the project last week. But as the week went by she would remember the word and use it. On one particular day she said "Mama, I'm thankful you let me have all that candy." How sweet!
Here are some other things she said she's thankful for:
Her grandparents
Her mommy
Her sister
Lots of popsicles
Her sparkly horse
Milk
And please don't remind Steve that he didn't make the tree. He is her favorite person to sit by at dinner and go to the movies with though, so he's doing pretty well.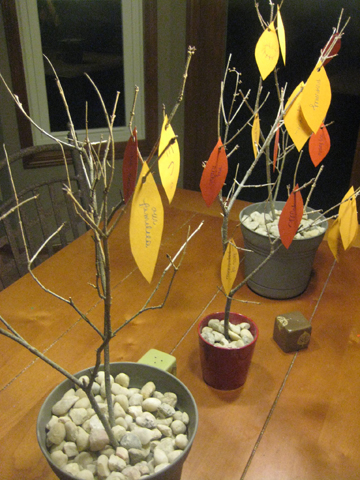 Ella insisted we make 4 Thankful Trees actually. Eva's is in her room.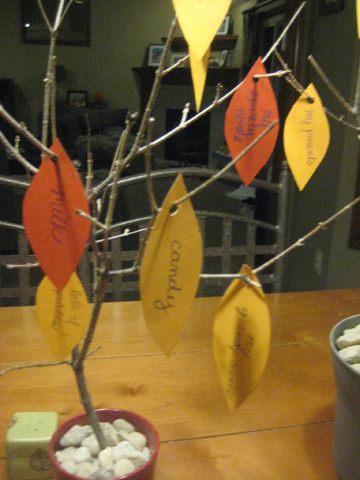 Filed under
Uncategorized
|
Comments (4)