July 29th, 2009
Ella's playing so good in the playroom that I thought I'd blog, although I don't really have anything great to say.
I was actually looking online to see if cramping during the second trimester is normal. And it is. More of your uterus stretching out to make room. I wonder if the baby is going to have a growth spurt. My belly does suddenly look larger today.
We've stayed home all day today, which is rare. My husband had no conference calls (which we need to be gone or quiet for) and he's actually out of the house for a few hours. So, I decided I could use a day with stretch pants and no mascara on.
Ella's doing well with potty training. Accidents here and there, but none today, and she's actually gone three times in her potty today. Now the biggest mess is cleaning up the mile-stretch of toilet paper she thinks she needs or the gallon of soap she dispenses out to wash her hands. This is how I found her yesterday while washing her hands.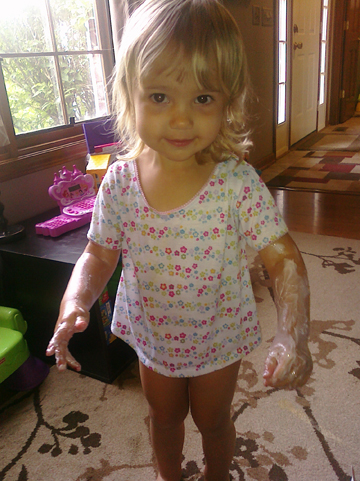 I thought maybe she was prepping for surgery or something.
Filed under
Uncategorized
|
Comments Off

on Dr. Ella, reporting for duty