January 19th, 2012
Lands End is marking a lot of stuff down right now so I ordered Ella's winter coat for next year. Only $19.99 right now and free shipping. You can't beat that for a good winter coat. It has already arrived and it looks very nice. Did you know all their children's coats have threading in the sleeve that you can remove to extend the sleeve and inch and a half? Apparently if they have a growth spurt or you want the coat to last two years, this will do the trick.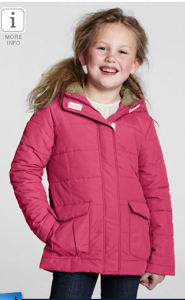 Ella picked pink, although I was really fond of the eggplant color.
I do agree with some of the reviewers that the sleeves are kinda slim though. I think it will work just fine though.
Filed under
Uncategorized
|
Comments Off

on Good deal