September 17th, 2009
My hubby has been gone since Sunday on a business trip and that always makes for a really different week. Luckily Ella has been a real sweetheart, plus I spent one evening at my parents' house where they fed us delicious food, brushed Ella's teeth and put her jammies on for me. Pretty dreamy. Don't tell my mom, but I'm thinking of asking her if I can move back in. They also showed us my dad's latest wild animal rescue: Pete the Possum.
Yes, at any given time my animal-loving father has some wounded or motherless animal that he is nurturing back to health. It was always really fun growing up to see such things as an eagle flying through our kitchen or a fawn trying to stand up in our dining room. And now Ella is getting to experience the same awe. Apparently my dad was moving a dead possum (opossum if you really want to be official) off the road when he noticed a little living baby clinging to the mother. I know, it's sad. But such is life on the backroads in Indiana – animals get killed. But how amazing that this little baby lived.
Anyway, my dad has some information on what to feed this little baby and how to care for it (you really can find anything on the Internet) and is letting him take residence in a box at their barn. (Actually it's an air-conditioned office next to the barn. Nothing but the best for Pete.)
So, that was definitely the highlight of our week. While the lowpoint was when I had agonizing lower back pain all day Tuesday and couldn't quite decide if I should drive myself to the E.R., work through the pain or just stay home trying to get rid of it. I chose the later. I found out it was likely a UTI, which are common in pregnancy. Luckily a lot of water took care of it and by the next day I was fine. It was definitely a day I could have used a husband at home though.
I've rambled quite a bit, so I think you at least deserve some photos if you've made it to this point.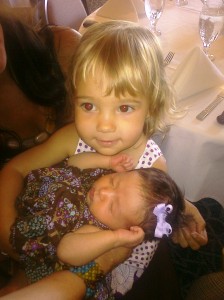 Ella practices being a big sister to cousin Gaby last Sunday. Gaby was looking gorgeous for her baptism.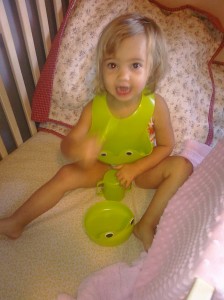 Ella tested out some things for the new baby in her old crib. Is she trying to get some final baby moments in before December?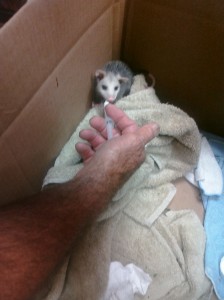 Little Pete gets a little taste of milk.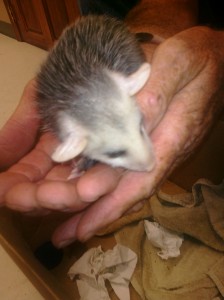 Pete was a little shy for the camera.
Filed under
Uncategorized
|
Comments (5)